Whee! Ok so yesterday I had a little photoshoot with my knitting and sewing projects and now I have a lot of photos for you that I can put over a bunch of posts! (yes I will drag it out as long as possible so that I actually have things to post about...)
Over the month of January, I'm trying to finish a lot of my UFO's prior to the start of Project Spectrum. This way I won't feel so bad for casting on new projects. Therefore, this will be the post of the (almost) FO's because I actually have a bunch of them already.
First on the list we have a baby sweater for my Pseudo-nephew (My mother's, boyfriend's son's child.... yeah... ). This is the Daisy pattern from Knitty in a navy blue acrylic (all my baby things, at least for newborns are made out of acrylic for washability). I added a bit of needlepoint to the sweater, it was my first attempt so it's not overly fantastic, but it gets the point across.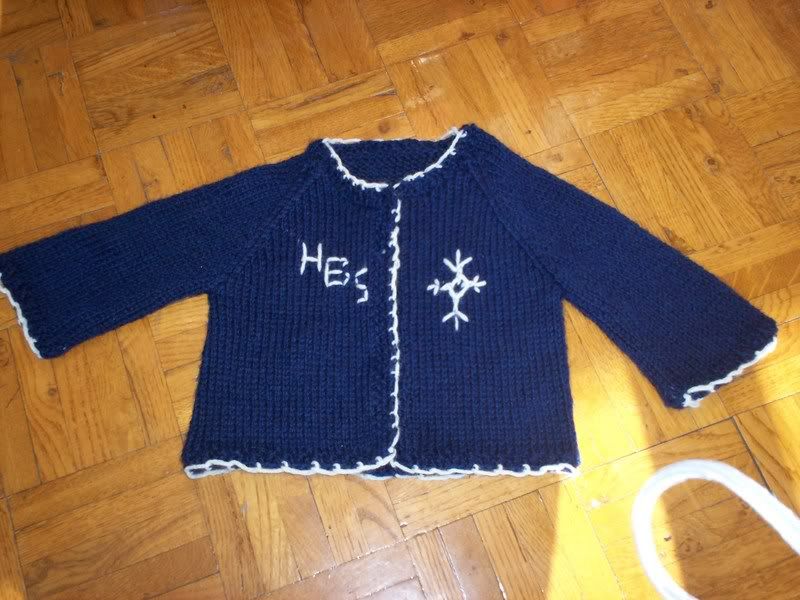 I have very cute bear buttons to go with it. They haven't been sewn on yet, here's a sort of pic, not very clear, but believe me, they're adorable.
Sorry it's so dark, I guess the flash didn't go. We've had horrible weather around here for picture taking.
And another thing for the new wee one, a Big Bad (Boring) Baby Blanket from Stitch and Bitch. I started this when we weren't sure if wee one was going to be a boy or a girl, so it's a bright blue. It took forever and was VERY boring to get to the finish.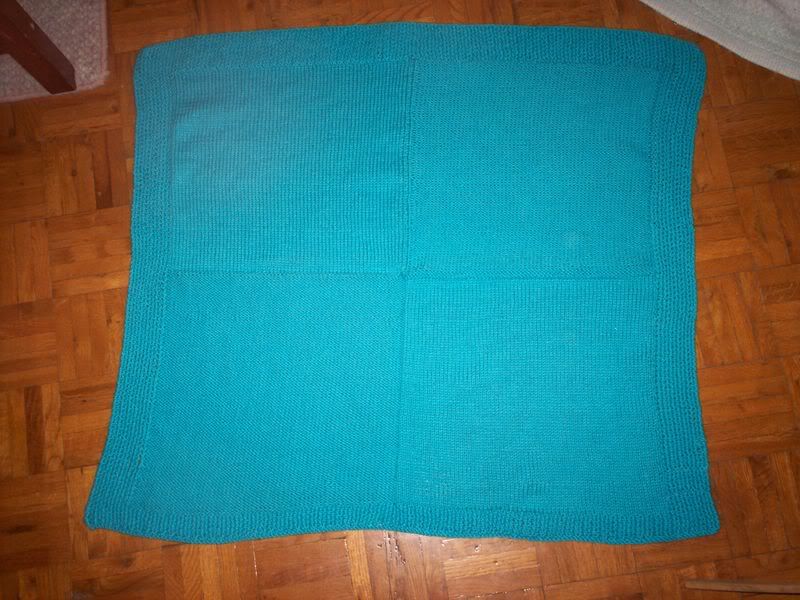 Now, the way I see it. The mom and dad deserve something too, considering that the mom had to deal with being pregnant, and the dad had to deal with a pregnent mom.
Therefore, mom is getting this lovely hat and wrist warmer set made from some wool I got in the booty swap.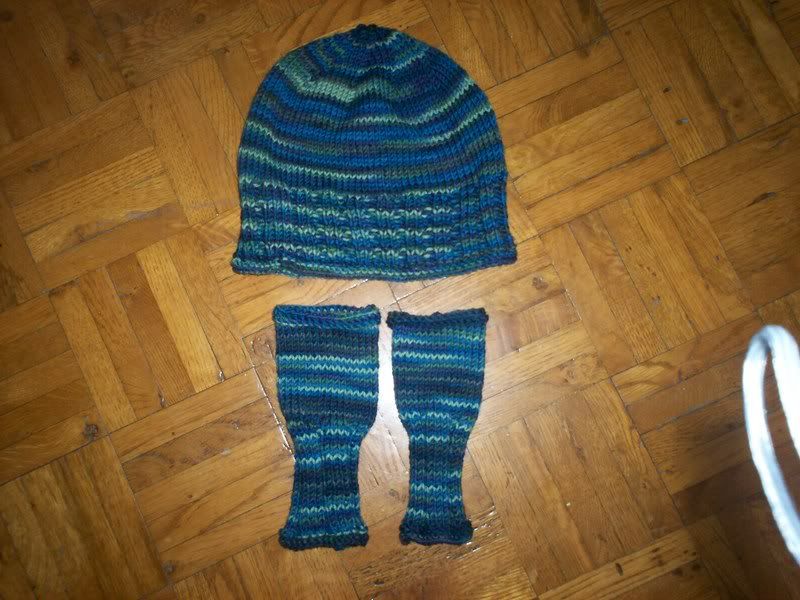 The dad happens to be a major Maple Leafs hockey fan, so I'm making him this really cool scarf.

This is my first attempt at illusion knitting. I think it's coming out really nice. I just didn't get quite the right angle to have the maple leaves look perfect.

So that's some of the FO's I've got done, at least for the new baby.

And since I was asked about the Hello Kitty sweater I had in the last post. I got the pattern from Oslofia when I joined her Hello Kitty KAL. It was a very simple drop shoulder sweater (Make 4 rectangles) with a simple intarsia/ fairisle pattern on it. I'm not sure if the pattern is free any more, or just if you joined the KAL but you can check it out on her site.


Next post I'll show you all the other finished objects I have as well as some UFO's. I've got a bunch of work to do before Feb 1 and the start of Project Spectrum, we'll see how well I do.

And now I'll let you know that I've been so lazy this week that it took me from Monday till now to get this post from start to finish. Oh well.

-saff