There were many things that I planned to show you yesterday.

Pretty things, like my newly finished set of
Stashbuster Spirals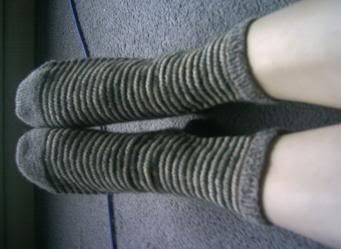 Started sometime in February, finished yesterday, made in Fortissima (I believe) and very pretty! (I'm very curious though, why my ribbing always seems to be looser than my stocking stitch.)

I was then going to tell you, that while I really liked making these, the are too big (hence the bagging at the ankles), and that I really hate the figure 8 cast on (even though it saved me from having to to Kitchener stitch)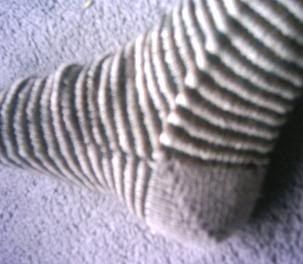 I was going to mention that even though I liked the clean look of the heel, it was way too difficult for me to wrap my head around, and I really didn't like the feel of it... but that could just be because I made the socks a size too big.

Continuing from there, I was going to tell you all about my new sweater. The one that has the front and back done.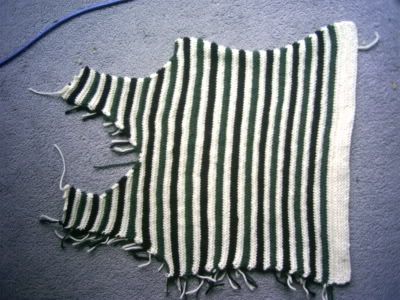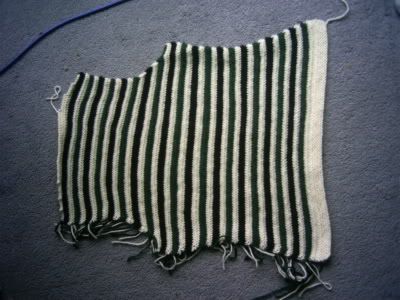 The sweater that I made out of some random balls of Wool Ease that I had lying around my stash... the sweater that I decided to make striped... and didn't put the ends in while I was knitting it... the sweater that may be fringed on the inside for extra warmth.

I was going to mention that I happen to be worried about running out of the white, since I'm doing 2 white for every coloured and the white is the accents as well. The front and back each took nearly one whole ball... I have one ball left for the sleeves, and a bit extra from the two other balls.

I don't know if I'll make it.

I was going to tell you that this is this sweater: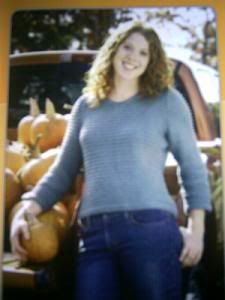 From this book: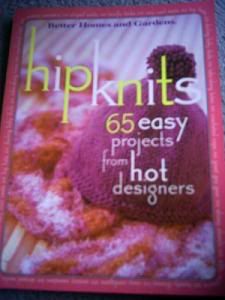 (apologies for blurriness... was taken with digital camera as scanner is busted)

And I was going to tell you that this book, when I first got it, wasn't on my top list of books to take patterns from. I got it for my birthday last year, flipped through it, then put it on the back of my shelf, figuring that these patterns didn't really thrill me. Then, I looked again. One of the great things about this book for me is that most of the patterns are simple, made out of easily found (and inexpensive) yarns - like TLC Heathers for example.

The other thing is, most patterns are easily fixed. The sweater I'm making now I have lengthened by an inch and a bit, and the sleeves will be full length rather than 3/4.

All in all, I fully recommend this book for people knitting for teen to 30's I'd say.. you might be able to squeek a couple sweaters for the older crowd, and there are some patterns for infants to preteen... of course, this is just the way I see it.

I was going to tell you that I like the patterns in this book enough that I've not only planned my next sweater to be from this book: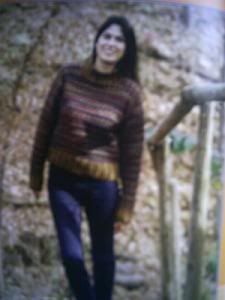 But in a moment of weakness, I went out and bought the yarn for this sweater (right yarn -for once- different colours):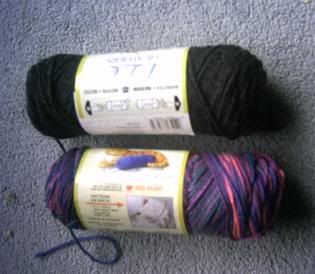 I was going to tell you all of this yesterday,

BUT,

Then I found out that my Grandfather had a mini heart attack on Thursday and was in the hospital. So I went and visited him instead, he's looking good and should be out in a few days.